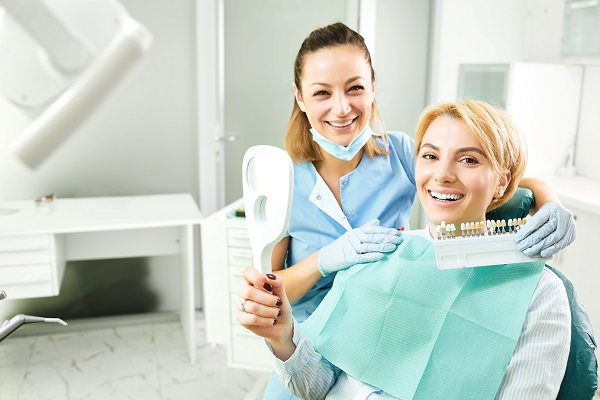 People in Summit, NJ, seek cosmetic dental treatments for various reasons, but usually involve correcting flaws in appearance that have developed over time. Cosmetic dentistry can make you look younger and more confident by creating a smile that's more symmetrical, healthy-looking, and attractive. You may be considering cosmetic treatment because your teeth or gums don't meet your expectations, or you want to improve the overall appearance of what you see in the mirror each day. Here are the leading dentistry solutions to expect from a center for cosmetic dentistry in Summit, New Jersey.
Laser Teeth Whitening
Suppose you're looking to restore the natural color of your teeth and make them look whiter. In that case, laser teeth whitening is one of the most affordable non-surgical cosmetic dentistry solutions available on the market. Using low light energy levels, which are safe for both adults and children, can remove stubborn stains on teeth caused by smoking, tea and coffee, and even red wine. 
Other than the not-so-pretty original shade of your teeth, there's no way of identifying whether someone has had their pearly whites whitened. When carried out by a qualified cosmetic dentist experienced in laser procedures, there are no side effects or discomfort with this treatment.
Porcelain Veneers
Porcelain veneers are another effective teeth whitening treatment to consider. They are thin, custom-made shells that cover and protect your natural tooth enamel and can even correct minor flaws and stains on teeth such as chipped or misshapen edges, small gaps, and more prominent chips. Once applied by a cosmetic dentist, they create a natural-looking result that can't be distinguished from your original teeth.
Dental Implants with Nobel Biocare
If you're looking to restore damaged root surfaces and replace missing teeth, dental implants provide a long-term solution by creating false tooth roots that are placed in the empty spaces in your mouth and then topped off with crowns. 
Since they're made of titanium and custom-crafted using modern 3D imaging technology, these artificial roots are more robust than natural teeth and last decades. It's one of the most effective long-term solutions for repairing damaged mouths suffering from gum disease or other dental problems that must be fully resolved before moving on to other treatments.
Dental Bonding
Dental bonding is a cosmetic treatment that involves using dental composite resin to repair cracked, chipped, or discolored teeth by filling these imperfections and then shaping them into the appropriate tooth form. This semi-permanent solution incorporates your existing tooth enamel and can be applied in under an hour.
Full Mouth Reconstruction
Full mouth reconstruction is a cosmetic procedure that requires several stages. It can be considered for people with overly crowded teeth, severely worn down teeth, or those struggling to keep on top of routine dental care because of gaps between their teeth. 
This treatment is carried out over three years. It involves multiple visits to the dentist where your existing teeth are reshaped, the size and position of existing teeth are corrected, implants or other types of false teeth can be inserted, and much more.
Suppose you are unhappy with the appearance of your teeth. In that case, there are a variety of cosmetic dentistry procedures available to you. Popular treatments include laser teeth whitening, porcelain veneers, and dental implants. Finding the best cosmetic dentistry experts is crucial.