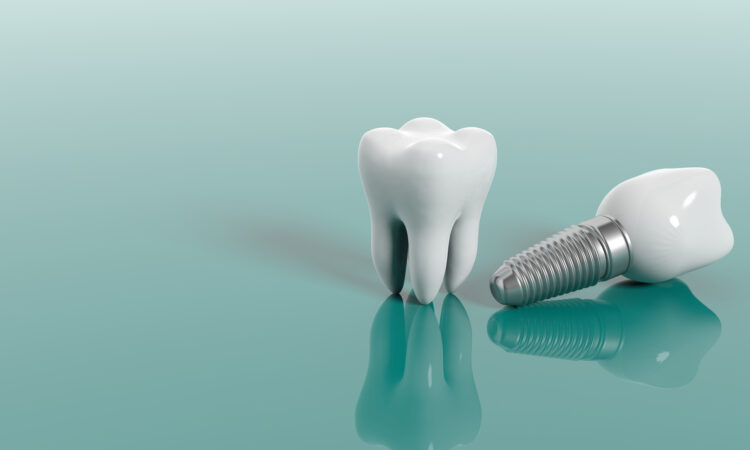 Tooth and dental implant isolated on green background. 3d illustration
Dental implants are an excellent permanent solution if you have lost your tooth or teeth to infection or injury. However, while individual implants work great for replacing a few teeth, they are unsuitable for replacing an entire jawline. The All-on-4® implant dentistry Mesa, AZ, uses four screws per jaw and complete dentures to replace your upper and lower sets of teeth. Read on to learn more on All-on-4 dental implants. 
How are All-on-4 Implants better?
There are various ways to deal with missing teeth. Usually, traditional dentures that sit on top of gums are common. Unfortunately, dentures have several shortcomings. It is not uncommon for dentures to fall out or shift their position. 'Shifting' teeth may result in discomfort and embarrassment, especially in social situations that require smiling, chewing, and speaking. 
Furthermore, traditional dentures cannot prevent the gradual loss of bone density due to the absence of teeth on the jaw. Usually, when a tooth is in its natural position in the jaw, it grinds on the tooth at the bottom.
The chewing process exerts pressure that stimulates growth and strength, thereby maintaining the density of the jawbone. However, the pressure reduces when a tooth is lost, and the jawbone around the missing tooth gradually loses density and strength. 
The All-on-4 dental implants are better than dentures because they offer secure anchoring of the dentures to the jawbone. The approach maintains bone density and strength by providing the equal opposite force teeth exert on each other. If you get dental implants, you can enjoy any food or event without worrying about your teeth falling out or shifting out of place. 
Besides dentures, All-on-4 dental implants are also better than conventional dental implants for full arch rehabilitation. The latter uses 6-8 implants to support a complete teeth bridge, while the former uses 4 screws per jaw. The All-on-4 technique procedure is also less invasive and faster. Your dentist may install implants and dentures in one day for a complete transformation. 
Also, the All-on-4 technique works for patients with osteoporosis of jaw bone, which disqualifies them from immediate dental implants. In this technique, patients with low bone density don't have to undergo bone grafting to get the implants. 
While All-on-4 dental implants cost more, the long-term benefits outweigh the short-term costs, making them a great investment.
All-on-4 implant procedure
The process begins with a complete consultation, examination, X-rays, and a cone beam CT scan. The dentist performs a thorough investigation to determine your eligibility for the procedure. They also take measurements and images to customize your implant placement and dentures.
On the day of the procedure, the dentist installs four titanium screws in your jaw. Next, the dentist tilts the posterior implants 45° degrees towards the rear of the mouth. The other two screws are placed on the front of the mouth. The full dentures then come on top. 
Without a doubt, the All-on-4 implants are like having a complete set of healthy, natural teeth. To learn more about All-on-4 dental implants for you, contact Arizona Dental Heights.